Lamanai Ruins and Jungle River...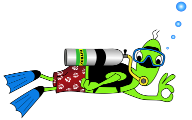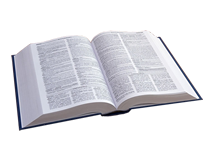 Primary Tagline

Our Dive Trips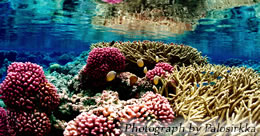 We offer the best dive trips on the island. Our local reef dives and our dive trips to the atolls are lead by the best divemasters on the island. They are committed to showing you the beauty down under. Plus, they are a whole lot of fun! Check out our dive trips here!
Ecologic Adventures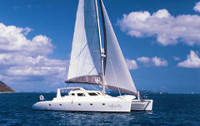 Visit our Ecologic Adventures web site for the best in sailing catamaran charters on Roatan, Honduras. Whether you want to charter by the day or by the week, we can accommodate you. Our 50 foot live aboard catamarans are simply beautiful!
Lamanai Mayan Ruins and Jungle River Cruise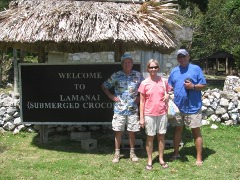 In early March we were privileged to have Pastor Jim Kitchell from our church in Boulder City, Nevada visit us here in San Pedro. We decided to take him on a mainland tour, specifically the Lamanai Mayan Ruins and Jungle River Cruise. This cruise was booked through Ecologic Diver's tour operator, Mainland Tours.
We got up early on March 4, 2011 and my wife Sue, Jim and I took a taxi to the San Pedro airport for a 7:00am flight. Waiting for us at the airport were Mark Cal, a Mayan descendant and our tour guide, and Shelly, Ecologic's front office manager. We boarded our small single engine Maya Island Air commuter plane, and fifteen minutes later, we landed at the Belize City municipal airport. Mark had his mini van parked at the airport, and we were soon heading north on the Pan American Highway towards Orange Walk, a city in northern Belize.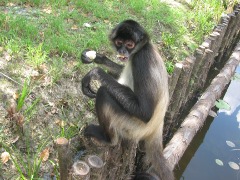 We had not taken time to eat breakfast, and Mark knew of a food stand in Orange Walk that had great tacos. We were soon served several dozen rolled chicken tacos, and they were snarfed down in a matter of minutes. Soon we back in the van and on way to the boat dock on the bank of the slow moving "New River".
We boarded our boat, a 20 foot fiberglass boat with a small 85hp Yamaha outboard motor. Our boat guide first took us down river for a short distance to show us a rum factory on the bank of the river. We went to the shore close to a rehabilitation center where there were spider monkeys playing in the trees. The monkeys were obviously used to people and being fed as they came up to the boat, and begged for food. They took bananas out of our hands, quickly wolfed them down, and then they were off to play in the tree tops.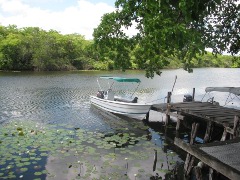 Our boat guide then headed up the river through a dense tropical jungle. The river meanders very slowly to the point that it is impossible to determine the direction of the flow of water. Beautiful growths of lily pads lined the river banks. One may see crocodiles floating near the river's edge, turtles, camouflaged bats and the "Jesus Christ Bird" which literally walks on water. The river seemed like a maze with countless branches from the main stream, and often I would guess wrong as to which was the main stream. Even Mark, who has been on this tour countless times, could not always determine the right branch to take.
The river trip is long, about 26 miles through the jungle, and eventually the river opened up into a huge lagoon, maybe a mile wide, and what seemed like many miles long. We soon headed over to the Lamanai boat dock on the west side of the lagoon, and walked up a path to the Lamanai Welcome Center. "Lamanai" means "submerged crocodile" in the Mayan language.
From there we began a half mile walk through an amazing rain forest of mainly palm trees with palm fronds that were twenty or thirty feet in length. These fronds created a canopy over the trail that would have kept us dry even in a thunderstorm. We soon reached the "Mask Temple" with its carved faces on the front walls of the temple.
After a short walk from the Mask Temple, we arrived at the "High Temple". This temple is huge, and after some serious discussion, Jim (who is 82), and I decided to climb to the top. The climb was very steep, and Sue and Shelly could not watch our climb for fear that we might fall. However we reached the top with no problems, and were greeted with a stunning view of the surrounding rain forest and the New River Lagoon. I dreaded going down because of the steepness, but we had no choice but to inch our way down the temple face by side stepping a step at a time (which felt relatively safe).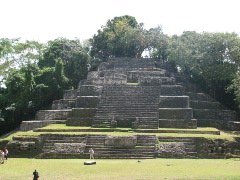 Once down, we made our way to the "Jaguar Temple" which was close by. Sue and Shelly decided to climb this temple, and they also made it to the top and back with no mishaps. Then it was back to the Welcome Center for a traditional Belizean picnic lunch of stewed chicken, rice and beans, potato salad, and pico di gallo. This meal was so good that we all helped ourselves to seconds. During our meal, I kept hearing these strange noises from the forest, and we were told that it was howler monkeys making their howling noises. They apparently make these noises to ward off other monkeys from encroaching into their territory. We then spent some time going through the Lamanai museum which explained many of the wonders we were privileged to see.
We then returned to our boat, and about an hour later, we arrived back at the dock. Much of return trip was spent looking for wildlife, and several crocodiles were spotted swimming near the river banks. We boarded our van for the return trip, and about another hour later, we arrived at the Belize City airport where we caught the last flight out to San Pedro.
Another amazing Belizean adventure had come to an end...