San Pedro, Ambergris Caye, Belize...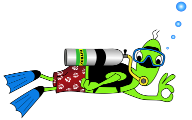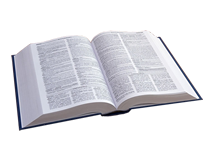 Primary Tagline

Our Dive Trips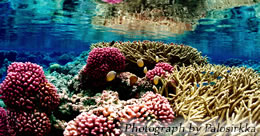 We offer the best dive trips on the island. Our local reef dives and our dive trips to the atolls are lead by the best divemasters on the island. They are committed to showing you the beauty down under. Plus, they are a whole lot of fun! Check out our dive trips here!
Ecologic Adventures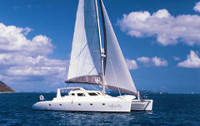 Visit our Ecologic Adventures web site for the best in sailing catamaran charters on Roatan, Honduras. Whether you want to charter by the day or by the week, we can accommodate you. Our 50 foot live aboard catamarans are simply beautiful!
San Pedro, Ambergris Caye, Belize
Ecologic Divers is located in San Pedro here on the island of Ambergris Caye, 15 miles off the northern coast of Belize. It is a town of about 12,000 people with the island having a population of around 20,000. Ambergris Caye is about 25 miles long with its width varying from maybe half a mile to several miles wide. It is a flat island with sandy beaches lined with palm trees and surrounded by the clear blue waters of the Caribbean -- truly a tropical paradise.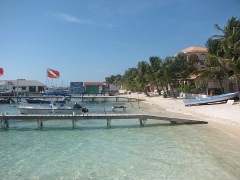 People come to San Pedro and Ambergris Caye to enjoy the sea, whether it be diving, snorkeling, fishing, sailing or other water sports. Belize is renowned as a world class diving destination with diving along the length of the Belize Barrier Reef, and in and around the three atolls off the coast of Belize. See the "Diving in Belize" photo album on our photos web page for a sample of the wonders you can see when diving the reefs and atolls of Belize.
The town of San Pedro is a particularly interesting place. Once a quiet fishing village, it is now a bustling tourist town with countless shops, stores, restaurants, bars and resorts. The waves and surf breaking over the barrier reef, about a mile offshore stretching the length of the island and beyond, keeps the wave action on the sandy beaches to a minimum. Accommodations here range from backpacker hostels to luxury beach resorts.
Along the beach are many docks and piers jutting out into the calm waters, some as long as 300 feet. There are often small buildings built on the docks. Needless to say, boats, especially power boats, are everywhere. People are often surprised at the size of San Pedro and the proliferation of resorts and homes along its 25 mile shoreline. The turquoise waters near shore are crystalline -- some of the cleanest water we have encountered in the Caribbean.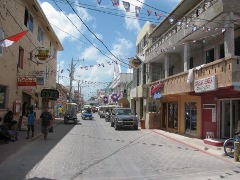 The beaches are lined with beach bars, small restaurants and resorts set among countless palm trees. Many of the restaurants in San Pedro can be described as "holes in the wall" having only a few tables. We frequently purchase food from street vendors -- grilled chicken, tamales, doughnuts, hamburgers, hot dogs, burritos, tacos, pastries and meat pies are common fare. Also the street vendors will hawk goods which include wood carvings (which are simply beautiful), blankets and other cloth goods, and hand made jewelery such as necklaces, bracelets, earrings and other trinkets.
The town is difficult to describe -- eclectic, quaint, and charming are words that come to mind. The town is old, but very clean -- in short, it has character. The streets are narrow, and as such, the primary means of transportation is golf carts -- they are everywhere, hundreds of them! Old time bicycles like we rode as kids where you peddled backward to brake are common -- no bicycles with hand brakes here. Taxis are ancient Toyota mini vans. An occasional motorcycle, pickup, or small car will sometimes be seen traveling the streets. Green John Deere tractors are commonly seen pulling beverage carts to supply bars, restaurants and resorts with beer and soft drinks. So what is our preferred means of transportation? We walk pretty much everywhere.
The airport is in the middle of town, and is only big enough to handle single engine propeller driven airplanes. Tropic Air and Maya Island Air fly into San Pedro almost continuously all day long, and provide a 15 minute flight from the international airport in Belize City.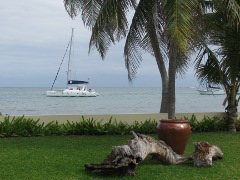 The streets are filled with people at all hours of the day into the evening. Kids are everywhere, especially on weekends where they play in the shallow waters along the beach. We have always felt safe walking the streets, even at night. The people of San Pedro are very friendly and always willing to help, an attitude that we rarely found in our travels throughout the Caribbean. English is the primary language of Belize, and as such, you will rarely encounter anyone with whom you cannot enter into a conversation. For those of you looking for a place with a lively night life, San Pedro is the place to be.
You will not find name brand stores, hotels and restaurants here, and forget the fast food restaurant chains like in the U.S. In short, you will see virtually nothing that you will recognize. This is a good thing, and adds to the unique flavor and character of the town. A walk in San Pedro can be likened to a walk back in time...