Snorkeling Trips...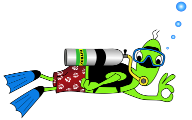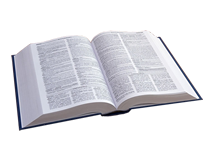 Primary Tagline

Our Dive Trips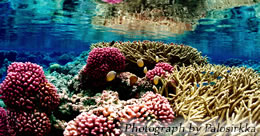 We offer the best dive trips on the island. Our local reef dives and our dive trips to the atolls are lead by the best divemasters on the island. They are committed to showing you the beauty down under. Plus, they are a whole lot of fun! Check out our dive trips here!
Ecologic Adventures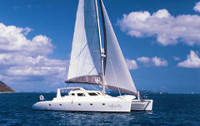 Visit our Ecologic Adventures web site for the best in sailing catamaran charters on Roatan, Honduras. Whether you want to charter by the day or by the week, we can accommodate you. Our 50 foot live aboard catamarans are simply beautiful!
Snorkeling Trips
12.5% general sales tax is not included in the prices below.
Our snorkel trips are normally inside the barrier reef where the water is shallow and the wave action is minimal. These trips are suitable and fun for all ages from eight to eighty!
Hol Chan and Shark Ray Alley Snorkel Trip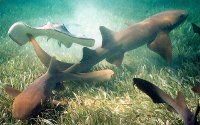 Enjoy an exciting snorkeling trip to both the Hol Chan Marine Reserve and Shark Ray Alley. Here you will snorkel with nurse sharks, sting rays, jacks, tarpon, groupers and other marine critters. This is fun for the whole family!

Snorkeling at Mexico Rocks and Tres Cocos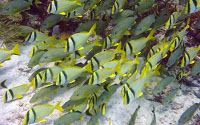 We will take you north of San Pedro to Mexico Rocks to snorkel various coral heads and reefs teeming with exotic, colorful tropical fish. Then it is off to Tres Cocos on the barrier reef where you will experience the most amazing stand of elkhorn coral in the Caribbean.

Night Snorkel at the Hol Chan Marine Reserve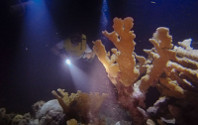 At night you will encounter aquatic life that you seldom see during the day. The reef comes alive with lobster, shrimp, the seldom seen octopus and many other species all on the hunt for a nighttime meal. In addition, the coral extends its polyps to feed on plankton. The artifical light from flashlights shows the true bright colors of the reef.
We leave our dock for this exciting trip at around 5:30 to 6:00 pm.

Dive Hol Chan and Snorkel Shark Ray Alley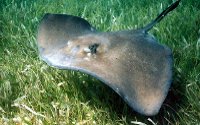 We begin this trip with an exciting dive at the Hol Chan Marine Reserve followed by a snorkel at Shark Ray Alley. Enjoy the wildlife including nurse sharks, sting rays, jacks, tarpon, groupers and other marine critters on this trip.

Blue Hole Snorkel Trip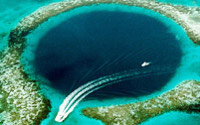 This is a three stop snorkel trip with the first stop being the famous Great Blue Hole in the middle of the Lighthouse Reef Atoll. Then it is on to Half Moon Caye for your second snorkel and lunch. Look for the red-footed boobie birds while on shore. We then proceed on to your final snorkel of the day at "The Aquarium" at Long Caye. The trip includes breakfast, lunch, snacks, water, and sodas.